Dental Crowns - Oakville
Smiles Dental Group provides the service of dental crowns, often called caps. Caps are required for several reasons such as to protect a weak tooth from decay, for installation of bridges, to cover a large filling, or to cover a seriously discolored tooth.
Crowns, as the name suggests, cover the part of the tooth at and above the gum line and are hence are the tooth's new outer surface.
The installation process first involves reducing or removing of a section of the tooth in question in order to make space for the cap. This will depend on the choice of material (gold alloy, porcelain attached to metal, all resin, and ceramic). Our doctors will then take an imprint of your remaining tooth and caste a crown in it which is later installed on top of the damaged tooth. If you choose a non-metallic material, dentists can even make it appear tooth colored so that it blends in with you other teeth. In the meanwhile, you will be provided with a temporary cap to protect your tooth.
Benefits of installing of a crown include prevention of further decay and damage and it also helps to conceal a particularly sensitive tooth.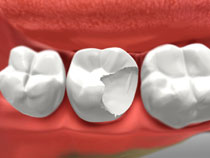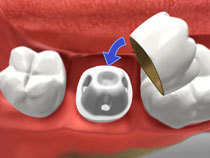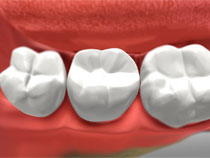 Bridges
If you are missing teeth and having trouble speaking or chewing, or are noticing strain when biting, bridges may be the ideal procedure to help make your mouth healthy and beautiful again. Bridges literally "bridge" gaps between teeth by filling them with strong, natural-looking artificial teeth. Bridges are semi-permanent – they can only be removed by a dentist – and are comfortable and proven to strengthen teeth.