Dental Crowns - Oakville
The Tooth Fairy Dentistry provides the service of dental crowns, often called caps. Caps are required for several reasons such as to protect a weak tooth from decay, for installation of bridges, to cover a large filling, or to cover a seriously discolored tooth.
Crowns, as the name suggests, cover the part of the tooth at and above the gum line and are hence are the tooth's new outer surface.
The installation process first involves reducing or removing of a section of the tooth in question in order to make space for the cap. This will depend on the choice of material (gold alloy, porcelain attached to metal, all resin, and ceramic). Our doctors will then take an imprint of your remaining tooth and caste a crown in it which is later installed on top of the damaged tooth. If you choose a non-metallic material, dentists can even make it appear tooth colored so that it blends in with you other teeth. In the meanwhile, you will be provided with a temporary cap to protect your tooth.
Benefits of installing of a crown include prevention of further decay and damage and it also helps to conceal a particularly sensitive tooth.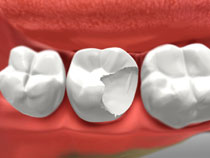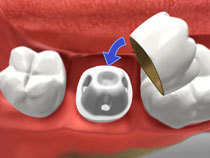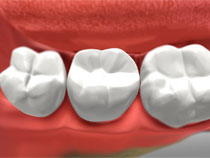 Bridges
If you are missing teeth and having trouble speaking or chewing, or are noticing strain when biting, bridges may be the ideal procedure to help make your mouth healthy and beautiful again. Bridges literally "bridge" gaps between teeth by filling them with strong, natural-looking artificial teeth. Bridges are semi-permanent – they can only be removed by a dentist – and are comfortable and proven to strengthen teeth.  They are cemented and can last up to twenty years with an impeccable dental hygiene, as the teeth are maintained under the bridge and are organic material which can decompose and became filled with bacteria.  Bridges are excellent options for someone who cannot yet afford an implant.  Best yet, it is a good option if the adjacent teeth are overly restored in need for crowns or some sort of laboratory made strong restorations.  The adjacent teeth, if bridges are done, are covered by this laboratory made restoration and no longer need the crowns, but it all becomes one piece, hence the name bridge.  The extent of the length of the bridge is quite long, with a minimum of two units to a maximum of perhaps ten units or more, as they can have attachments in between which make them more flexible.  The time length for the procedure is from two to a few more appointments, depending on the aesthetic and bite needs of the case, as the laboratory can also fabricate a wax up of the perfect smile before proceeding to the final restoration.  After cementation, the patient is instructed to floss under the bridge with floss threaders.  Occasionally, a pink flap can be made near the gum line to simulate the gum shade if too much tooth structure is missing.  Such structure can also cover receding gums and much more, so that now you can eat and smile more.